ATTENTION
Beginning Wednesday, August 26, 2020, the high power range will be restricted to the 100 yard berm only, and only until 10am.  After 10am, the high power range will be closed.
With the current fire situation, and the lack of resources to fight fires, and the high probability of fire danger, we must be vigilant in protecting our club.  Thank you for your understanding…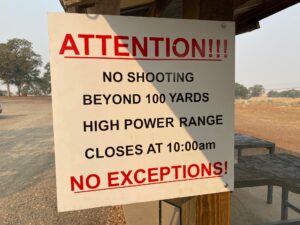 UPDATE:
We are working diligently towards getting back to our shooting events.  We are doing a few events, some with limited entry, to see how things go.  We will be following all state and local regulations regarding COVID-19, such as distancing, sanitation, etc.
Below you will find the modified schedule for the next month.  The regular event schedule has also been updated. 
Thank you for your understanding  and patients as we get our club running again.
TSA Board and Officers
August—September
Aug 15. Sat. 1000 yd benchrest 0700
16. Sun Shotgun Sports
Swap meet 0800
22. Sat. 600 yard benchrest 0700
USPSA. pistol. 0800
SEPTEMBER
2 Wednesday. TSA meeting.
Elks Lodge. 6:30
4 Friday. 300 yard benchrest. 0800
5 Saturday Service Rifle 0800. Cowboy Silhouette 10:00
6 Sunday. Shotgun Sports. 0800. ARA Benchrest 0800
7. Monday. Range Open
12 Saturday. 1000 yard benchrest. 0800
19. Saturday 600 yard benchrest. 0800
20 Sunday. Shotgun Sports. 0800. Cowboy silhouette. 10:00.
26 Saturday USPSA Pistol. 0800
OCTOBER
2 Friday 300 yard benchrest. 0800
3 Saturday. Service Rifle. 0800. Cowboy silhouette. 10:00.
4 Sunday. ARA Benchrest. 0800
Shotgun Sports 0900
7. Wednesday TSA meeting 6:30. Elks Lodge.
Photo Gallery is now working.  WE NEED MATCH PHOTOS!!!
Match directors, please send match photos so we can make a gallery for your match.  Send photos to guntrainer1911@gmail.com
The 2020 Event Schedule in the menu now has all of our events in it and is a Google calendar.  This will be the new normal for this part of the page.
Board member Donn Kelley standing next to new range rules sign on the smallbore range.  New signs coming to the high power range in the near future.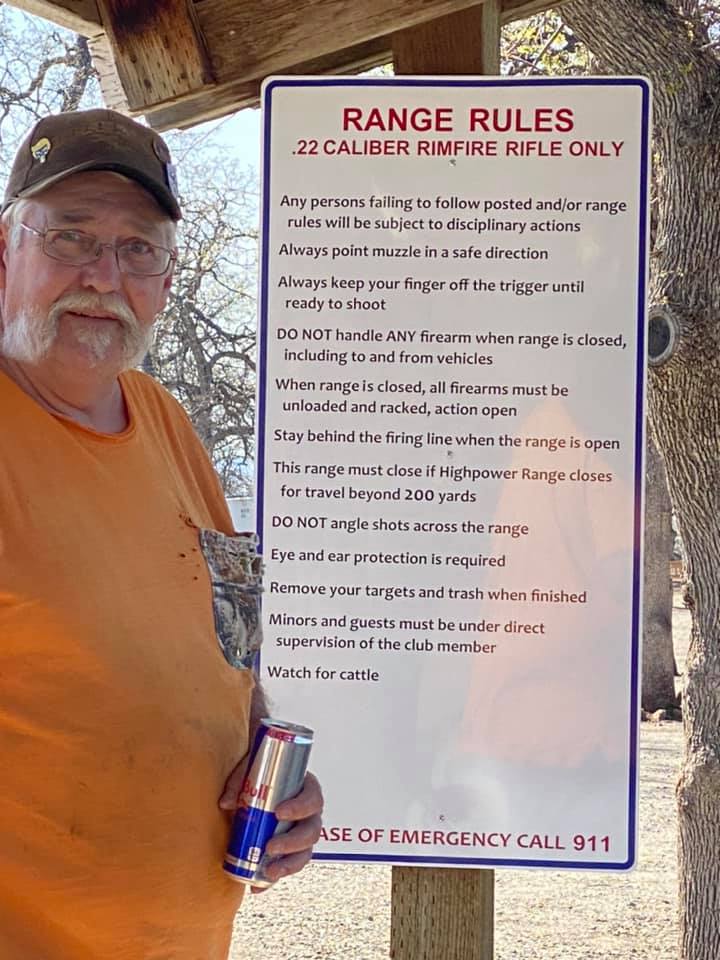 Welcome to Tehama Shooters Association
NOTICE: Special Range Restrictions – Please see Blog post on Fire restrictions.
Thanks for dropping by and have a look around. Our club is located a short driving distance from the Cities of Red Bluff, Redding and Shingletown. We are a private membership club serving several hundred shooters from local Northern California communities. Our facility supports several different shooting disciplines, Trap, Skeet, Rimfire, Pistol, and Centerfire.
Service Rifle and Pistol – Our popular Service Rifle matches are held the first Saturday of every month where you can test your skills at various yardages with your military style rifle and iron sights.
The American Rimfire Association (A.R.A.) – Precision .22 rimfire is the name of the game for those who like to get the highest score possible and be ranked state and nationally. Anyone can participate on the Rimfire Range a few times a year. Some of these shooters travel across the country to compete and are ranked in their association across the United States.
Trap & Skeet – Many members enjoy the trap or Skeet competition several times during each month.
Benchrest – This is where precision shooting tests your skills shooting for highest score and smallest group size. Rifles used are bolt-action rifles seated on a sturdy front rest and a separate rear bag. The yardage is 600 and 1,000 yards.
Youth shooting sports programs – Tehama Shooters Association supports our young shooters with their efforts of learning firearm safety and sportsmanship with others. Some youth groups include 4-H Shooting Sports, ClayBusters and Young Marines.
Steel Silhouette – Several of our members like to shoot small-bore silhouette targets.
Fun for the family – The range is open to members and their families to enjoy a fun day of shooting. Members are allowed to bring one guest with them to shoot on any day the range is open.
Non-Members – Shooters that are not members of Tehama Shooters Association may visit the range only on days of a scheduled event to watch or participate.  Certain rules apply. Some events are not open to non-members. Check with match directors of the event for further details.
Range Hours – The range open to members Wednesday through Sunday and is CLOSED Monday and Tuesday. Events have preference over casual shooting so please check the event schedule before heading out to the range.

Tehama Shooters Association Range Facility